Speaker Stands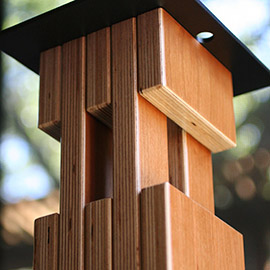 The accurate support of quality speakers is an often-overlooked detail, even in high-end audiophile installations. You must maintain two opposing laws of physics:
First, you want the speaker to maintain an absolute position in space and move the air around it rather than move itself.
Second, you want the speaker to be sonically detached from the floor it sits upon. Should the resonance of your environment be transmitted to your speaker, or the detail of the speaker wicked away to the floor, you will be compromising the accuracy of your speaker.
How do you make sure the speaker is securely mounted in space but not transmitting resonance? For this, you need a quality speaker stand that provides strength and isolation. Many discerning audiophiles maintain the credo that "your sound is only as strong as your weakest link." Core Audio Designs presents the ideal solution to this all-too-common problem.
The plyKraft "riser" is constructed from steel, aluminum composite, natural stone, high density 1" Apple-Ply and real wood veneers, all of which are ideal materials for use in high-mass platforms. The natural stone offers mass and stability while the exposed Apple-Ply edge offer vertical presence, elegance, and refinement. Wood components are milled with precision two head CNC routers.
In addition to the natural beauty of the speaker stands, the adjustability feature allows for customization for the individual listener. Ideally, the tweeters of the speakers should be at ear level. However, the adjustability of the speaker stands lends itself to experimentation, accommodating the listener's personal sonic preference. Complete with stainless steel spikes and stainless steel coasters, the "riser" will complement a wide variety of high-performance monitors.
Features
Rigid High Mass Design
Adjustable Center Column. Overall height variable from: 23"-30"
Aluminum Composite Top Plate with Brushed Copper Finish: 6-3/4"w x 7-½"d (Custom Top Plates Available)
Solid Pennsylvania Blue Stone Base Plate. Available in Natural "Full Color" or Matte black. Please specify color. Base Plate dimensions:: 12" x 12" x 2"
Note: Orders placed after Feb 24, 2016. c o r e will include 2 sets (8 each) c o r e Deluxe v.3 Stainless Steel Spikes & Coasters.
Made in California
Models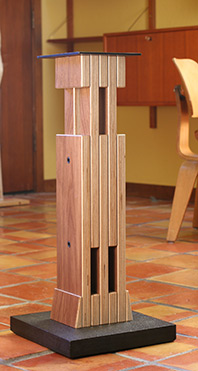 riser
Top Plate:

6-3/4"w x 7-1/2"d

Base Plate:

12"w x 12"d x 2"h

Height:

Variable 23" - 30"

Dimensions:

29"h x 12"w x 12"d

Weight:

100

Wood Type:

-Rift White Oak $1750

-Black Walnut $1750

-Natural Maple $1650

-Natural Cherry $1650

-African Sapele $1700

-African Zebra $1950

-African Bubinga $1850

-African Wenge $1850
Lead time 4 weeks
Includes deluxe v.3 stainless steel spikes & coasters.
 
Pennsylvania Blue Stone is available in Natural "Full Color" or Matte Black. Please specify color."risers" will ship with "Full Color" unless otherwise noted.
 
Note:
Due to the fluctuating cost of materials, price can vary from time to time. Customers will be charged at the rate in which the order was placed.
Available Veneers
Gallery
Customer Testimonials
"Arnold of Core Audio Designs was a pleasure to deal with. His speaker stands are beautiful, of top quality and reasonably priced. They were easy to assemble and make my JM Lab Mini-Utopias sound wonderful. Big upgrade."

Richard M. Narberth, PA USA |AudiogoN member: Rmosk
"Work of art, is how I would describe Arnold's stands. Truly beautiful, and highly functional. Extreme care was also applied to the shipping package! Arnold, thank you."

David C. Levittown, NY USA | AudiogoN member: Toudou
"Second perfect purchase from Arnold. He is responsive, friendly, quick, and gives total attention to details. I will definitely be doing business with him again and would urge anyone in the market for audio system furniture to consider his products."

Richard K Richmond, VA USA | AudiogoN member: Rickk
"If you want the best Speaker and audio stands then Core Audio has what you need, I'm a return customer and love the Craftsmanship that goes into each piece of wood! Well packaged and shipped quickly! Thanks again!"

Jack C B Taylorsville, KY USA | Audiogon Member: Zaphodbeeblebrox
"Thanks to Arnold for delivering the perfect stands for my Concertos. The Core Audio craftsmanship matches the Sonus Fabers, beautiful wood impeccably finished and assembled, with a complete package of hardware too. Great transaction!"

Tim C. Mill Valley, CA USA | AudiogoN member: sitting_still
"Arnold creates beautiful speaker stands that make any speaker look fantastic. Great guy to deal with. Very interesting audiophile to talk shop. Thanks!!!"

Jeff S. Decatur, AL USA | AudiogoN member: simpsonjp
"Bought another pair of the Model B stands from Arnold. As usual the level of customer service & the quality of the stands was outstanding and deserves 5 gold stars." "OUTSTANDING customer Service. The speaker stands are elegantly built and exceeded expectations. I whole heartily recommended Core Audio Designs and it is pleasure to do business with Arnold Marr."

Hanif H Redondo Beach, CA USA | AudiogoN member: Hhh
"Excellent product. Quality workmanship. Transaction could not have gone smoother. Questions answered immediately with precise answers. Product packaging superb, I have not seen better shipping packaging. Highly recommended. A++++++++."

Jim B. Austin, TX USA | AudiogoN member: jimboysen
"Hello, I just wanted to let you know after expending some time with my stands, how amazing they are. First, they are the most beautiful stands I have seen. The fit and finish are first class. I love to see manufactures take pride in their work. Second, they make my KEF LS50 Anniversary sound amazing.I am so glad I have chosen your stands.Third, you provided me some of the best, if not the best, customer service available in this industry. You are very knowledgeable and a gentlemen. Thank you so much and I love to do business with you again."

Cesar G. Wellington, FL USA |