Isolation Platforms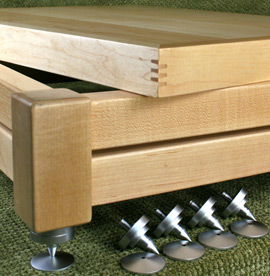 Key components, particularly amplifiers, suffer compromised instrumental richness and detail due to resonance inherent in the coils of the transformers.
Core Audio Designs has developed an effective solution to draining unwanted vibration and isolating from floor born vibrations. We use a unique manufacturing process that captures and mitigates resonance over a large range of frequencies without compromising the beauty of furniture.
Using only the finest materials and wood joints, science and aesthetics are given equal footing in the potent "isoPlat"CLD v.4 (Constrained Layered Damping) Isolation Platform. Core Isolation Platforms can be used for amplifiers, turntables, and loudspeakers for improved sonic purity and timbral integrity.
Features
Mitigates resonance resulting in improved purity and timbral integrity.
100% solid hardwood frame.
Premium heartwood used for stability, even grain, and overall strength.
Furniture grade construction using joinery of mortise & tenon, and tongue & groove.
2 inch high density Apple-Ply® insert preloaded with our unique blend of damping materials to create a low resonant core.
Includes adjustable v.3 deluxe stainless steel spikes and coasters.
Available in Rift White Oak, American Black Walnut, Natural Maple, or Natural Cherry, African Sapele, African Bubinga, African Wenge, and African Zebra.
Models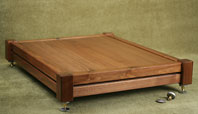 isoPlat CLD v.4
Dimensions:

25 ½"w x 22 ½"d x 5¾h

Insert:

22w x 19d x 2h

Weight:

65

Wood Type:

-Rift White Oak $1850

-Black Walnut $1850

-Natural Maple $1700

-Natural Cherry $1700

-African Sapele $1800

-African Zebra $2050

-African Bubinga $1950

-African Wenge $1900

-Dual Horizontal Support Rail Add $300
***Lead time 4-6 weeks***
Note:
Due to the fluctuating cost of materials, price can vary from time to time. Customers will be charged at the rate in which the order was placed.
Available Veneers
Gallery
Customer Testimonials
"Arnold, you have done it again. It's very rare nowadays to come across individuals that will do anything to make their customer happy. I am exhilarated and fortunate to be part of your loyal customer base. Highly Recommended!!!!!!!!"

Lalit K. Houston, TX USA | AudiogoN member: lalitk
"Just bought 2 CLD deluxe stands, thanks very very much for a great product it looks and sounds excellent. The seller is very much recommended quick delivery with excellent packaging, Thanks a lot."

Paulo M. Acores, Portugal | AudiogoN member: Canoa70
"Wow. What can I say? These lil amp stands are way to cool. They are perfect for small items and look really cool. Workmanship is flawless as was the delivery and ordering. The whole process from ordering to finished product at my door was 48 hrs!"

Mark E. B. Dana Point, CA USA | AudiogoN member: M_e_b
"Arnold is a very trustworthy person. He provides high quality products at very reasonable prices. A man of integrity!"

Michael M. YBM Audio San Francisco, CA. USA | AudiogoN member: mmai
"CORE FURNITURE, One of the best designs and outstanding workmanship for audio. Thanks a millions to the lightening fast shipping, great deal pricing, and excellent communication. HIGHEST RECOMMENDING AUDIOPHILE!!!"

Minh L. San Francisco, CA USA | AudiogoN member: Mluc