Acoustic Panels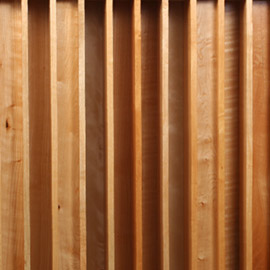 The most important component of any media room is the room itself. Many audiophiles spend thousands of dollars on components, while acoustic treatment is often overlooked. The AD 2 v.4 is a 13 root QRD diffusor (Quadratic Residue Diffusor), based on the mathematical calculation developed by German Physicist, Manfred Schroder. The AD 2 v.4 does not reflect or absorb sound, but rather it scatters sound in a predetermined 180-degree pattern diffusing direct reflections while maintaining dynamics. The AD 2 v.4 divides the sound waves into 13 parts. The AD 2 v.4 has an effective range between 950hz - 5khz. Core Audio Designs Acoustic Diffusor Collection is an elegant approach to treating a room while preserving artistic integrity. The AD 2 v.4 is designed to integrate within traditional and modern décor.
Why Core Audio Designs Acoustic Panels?
Core Audio diffusors are constructed from FSC & CARB certified Apple-Ply hardwood laminates. Thick 1" frames support the 3/8" slats. Milling is performed with state-of-the-art CNC (Computer Numerical Controlled) routers, capable of tolerances within .001 of an inch. Playing on the "plyKraft" theme, the Apple-Ply edge is exposed to highlight the quality of modern engineered materials. For those who prefer a more traditional aesthetic, edge banding is available for a minimal up charge. Surfaces are finished with MOHAWK® brand professional grade oil based catalyzed lacquer. The photos in our gallery attest to the expert workmanship of our products while showcasing the most advanced high-end components. Core Diffusors are the perfect blend of science and artistry, bringing acoustic treatment and appealing décor into perfect harmony. Find out more about diffusion »
Models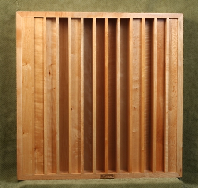 Acoustic Diffusor AD-2 v.4
Dimensions:

24"h x 24"w x 4"d

Weight:

25

Shipping:

57 lbs.

Wood Type:

Custom
PER PAIR PRICE.

AD-2 v.4 Discontinued N/A. Limited qty AD-2 v.4 in solid hardwood available in unfinished Ash. Call or email for pricing. AD-2 v.4 replaced with c o r e CAP (Composite Acoustic Panel). c o r e CAP $850pr. Sold Only in Pairs.
Available Veneers
Gallery
Customer Testimonials
"I just received the diffusers. I immediately opened one box and took a panel out for inspection. As many times as I've looked at these I had no appreciation for how beautifully made they are; like fine crafted furniture. My wife is a designer and art lover…she also worked as a builder of high-end homes. She was knocked out. Have I bragged on them enough??? The packing is as good as the high-end German mfr's who are meticulous to the max."

Stephen Clay, President of AudiogoN
"Three things: Product, Company and Arnold. Let's start with the products: Superb craftsmanship, coupled with real performance at a relatively reasonable price. Both the diffusors and rack are something I look forward to keeping for a while. Company: Informative website, great customer service and care for everything they do. Their packaging for instance, is out of this world! And then there is Arnold. A world of knowledge and experience and very very humble. Will never oversell his products or knowledge (a rear quality in this hobby!) and is more interested in helping you than selling you anything you don't need. And he never fails to go that extra mile!"

Assad J. Denver, CO USA | AudiogoN member: Assad
"Core design's products are excellent, both in performance and value. Additionally, Arnold's expertise and vast knowledge of everything audio is the icing! One of the very best dealers out there! Highly recommended!" "Buy with the utmost confidence- core audio delivers terrific products and offers great values, extreme build quality and first -class service and delivery. Highly recommended!"

Oded Z. Norcross, GA USA | AudiogoN member: Ozy
"There are class people in this hobby & Arnold has to be at the top. I have done multiple transactions with him. His products are of the highest quality. My Highest Recommendation. Thank You Arnold."

Gary R. Vermilion, OH USA | AudiogoN member: grr6001
"Beautiful products, well packed, for a sensible sonic improvement! A pleasure to deal with him! Grazie."

Livio C. Milan, Italy | AudiogoN member: Ace427
"Arnold is great to work with. I sent him a drawing of my layout, and he called and talked for about an hour. He gave me his recommendation and explained how and why it would help in my room. When the diffusors arrived, they worked just as he said."

Ron Coeur D ' Alene, ID USA | AudiogoN member: krell_man
"I have had three transactions with Arnold and all have been excellent! I've not even paid yet due to time zone different but the products have already been shipped. Good communication and fast shipment. A trustworthy person. Highly recommended!"

Wong T. W Singapore | AudiogoN member: wtw179
"Excellent seller! This was a perfect Audiogon transaction. Incredibly fast shipping and the best boxing job I've ever seen! Also, Arnold is a friendly, helpful person. Couldn't be better."

Bryon C. San Francisco, CA USA | AudiogoN member: bryoncunningham
Why use Diffusion?
The acoustic signature of any room is compromised by a swept comb-filter effect where peaks and notches are produced in the resultant frequency spectrum in linear harmonic series due to audio being reflected unevenly from the walls. Imagine for a moment that your listening environment is a 10ft x 10ft x 10ft cube. When playing a recording with such a vast array of instruments of varying frequencies in an untreated listening room, there are far too many opportunities for unwanted reflections, phase cancellation, loss of harmonic overtones, etc. The whole auditory experience is skewed, doing an injustice to the artist and the listener. In an ideal situation, you would have no parallel surfaces to be reflective. Treating first and second order reflections are key to accurate reproduction. Normally, sound is reflected off the back wall, bounced back by any number of surfaces to the front wall and then reflected within the original soundstage of the speaker. This is the most degrading property of acoustics. By placing acoustic diffusors behind the speaker on the front wall, you remove the reflections that upset the soundstage. Adding additional diffusors to the corners and side-walls continues the improvement in accuracy. The rear wall diffusors dramatically compensate for the size and shape of your room, making the soundstage seem to extend beyond the room boundaries, thereby making your acoustic environment larger than the actual space. Diffusor designs use an irregular surface, having a complex pattern to scatter the soundwaves thoroughly. Diffusors scatter soundwaves in different directions based on their frequency, rather than merely redirecting all the waves in the same direction. Diffusors avoid direct reflections altogether and thus have a much more open, transparent, and natural sound than a simple flat surface. Diffusors eliminate standing waves and flutter echoes without removing acoustic energy from the space or greatly changing the frequency content of the sound.